The T3 option enhances the INF PhD program, providing innovative training in informatics, ecology, team-based research, and communication, and it is one of a select few graduate training programs funded by the prestigious National Science Foundation's Research Traineeship (NRT) program.
---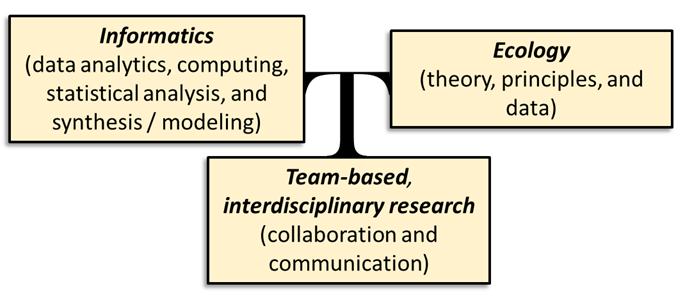 The T3 Option is motivated by the overarching question:
How does anthropogenic climate change affect the health and productivity of terrestrial ecosystems?
Goal: Train students to independently and collaboratively leverage cutting-edge informatics tools with skills and knowledge of ecology and related environmental science disciplines to address the most pressing environmental issues facing societies today.
---
Coursework Information
Click here for information about the available courses, requirements, and sample course progression.
---
On This Page
Application Information Recent Highlights More About the T3 Option
---
We Are Recruiting Graduate Students for 2021-2022!
We are excited to welcome Cohort 1 back for their 2nd year and to welcome Cohort 2 for their first semester. Won't you join us as a member of Cohort 3? See below for application information. 


Application Information
Finding a faculty mentor and research group that aligns with your interests is crucial for success in graduate school. Before applying, please learn about our research groups by looking at their websites and contact the prospective mentor(s) whose interests most closely relate to yours. If you are unsure who to contact, please email the T3 Program Coordinator.
Deadlines: For full consideration for fellowship opportunities within the T3 program and within NAU, apply by November 1, 2020; for full consideration for T3 fellowship opportunities, apply by December 1, 2020; the final deadline (Graduate College deadline) is January 1, 2021.
When you are ready to apply, click here!
Return to Top
---
Recent Highlights
2020  T3 Retreat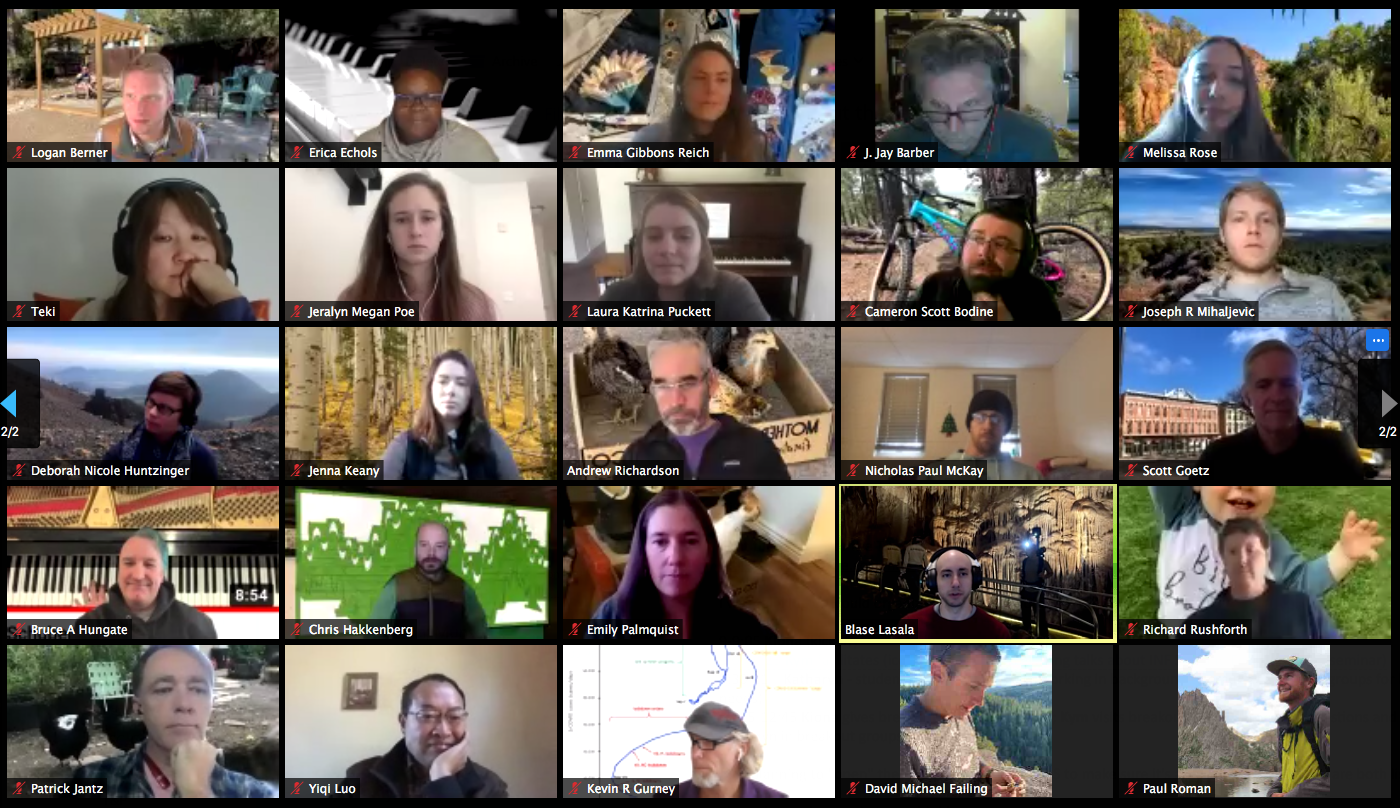 We held our annual T3 meeting on December 1-2, 2020 via Zoom (of course!). On December 1, 10 students presented lightning talks to give updates on their research, and then all participants worked in breakout groups to discuss proposed curriculum changes and to give feedback on how the curriculum could be improved to better suit student needs. Congratulations to Emma Reich and Cameron Bodine for winning the Student Lightning Talk contest!
On December 2, Dr. Kathleen Weathers of the Cary Institute and ESA president joined us. Dr. Weathers presented a seminar on her work with GLEON to researchers across NAU. She followed this with a workshop on team science for students and faculty in the T3 program. Thanks to all who participated. 
2020 Ecoinformatics "Ignite" Presentations
Students in the INF 550 (Advanced Survey in Ecoinformatics Tools) partnered with outside organizations (e.g., NEON, USA-NPN, PhenoCam, FLUXNET, AmeriFlux, NASA EOS, USGS, NWIS) to develop derived data products. Students presented their research in an "IGNITE" style mini-conference in a series of 5-minute lightning talks. 
2019 T3 Retreat
---
More about the T3 Option
Benefits of the T3 Option
Training in team science and science communication through courses and workshops

Eligible for supplemental travel funding through a competitive process

Eligible for supplemental research funding through a competitive process

Opportunity to help shape the T3 program through participation in committees and/or assuming a leadership role in organized activities (seminars, workshops, tutorials, recruitment events, etc.)

Option to pursue an internship with a federal agency or another internship partner, providing informatics research experience and networking outside the university

Participation in cohort-building activities

Opportunity to engage in collaborative, team-based research projects
The Details
Where do the three T's come from?The T3 option is a Team-based, T-shaped scientist Training program that integrates informatics and ecology.
Return to Top